Growing up in California, skateboarding and listening to punk music, Tellason founders, Tony Patella and Pete Searson, were inspired by the mindset of those circles. So they focused their attention on high-quality basics, devoid of frills and embellishments. Their love and respect for durable goods, who made them and where they came from is found in their brand.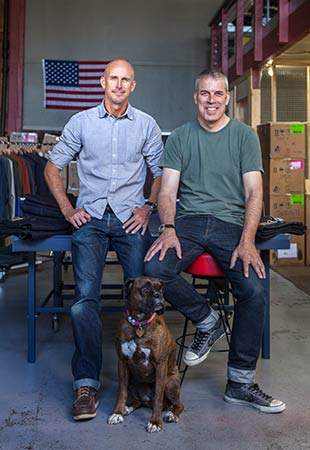 Top 3 influential bands in your life
The Clash, The Jam, X
How you define the raw?
Untouched. Left alone. Not manipulated. Ready to start the life.
Tell me raw elements in your life.
My relationship with my kids. I don't remember ever speaking with them in a baby voice or a condescending voice. They have real moxie and personalities that will break down doors. Part of being "raw" is not allowing twisted truths and propaganda enter into your life. Johnny Lydon (Sex Pistols) constantly spoke (and speaks) about transparency in life. This always hit home with me.
What you do is more related with business or pleasure?
Pleasure. 100%. Good business comes from honest and personal pursuits that the end consumer will dig without knowing why.
Your flow? First research? All under control? Improvisation?
I have a decent read on new people and trust my inner monolog. Work smarter, not harder. Make amazing product and treat your customers with great respect.
What best represents your work?
A great worn out pair of one of our jeans is always the most satisfying for us to see. No sand paper, no stone wash, no Dremmel Tool creating fake holes and wear patterns.
Your motto?
Stay Free. (The Clash)
What is the thing that gets you out of bed each day?
My two clever daughters, my lovely wife and the simple fact that I love my job.
If is not San Francisco, where?
I could see myself living in London for a while or Tokyo, but will always need coastal access to dip in and have a surf now and then.
Best piece of advice you've received?
Don't try to be everything to everybody. You know that awkward feeling you get when you walk by a Chinese restaurant that also serves Italian food? Same thing here.
Your favorited item (clothing)?
Of course, my jeans (I only have one at a time), and my 40 year old Katin surf trunks.
Your treasured possession?
I really don't consider any of my things to be treasured. Truly. I do have a nice Panerai watch my wife gave me for a wedding gift. That would be the only thing that comes close.
Food you can eat everyday?
Easy one here.Tacos.
Best cheap eats
Tacos at La Taqueria.
Favorite bar
Toronado
Favorite coffee shop
Four Barrel
Favorite food place
Delfina
Favorite last book
Under the Big Black Sun by John Doe from the legendary punk band X. Incredible tales from the people who were there during the L.A. punk scene in the late 70's.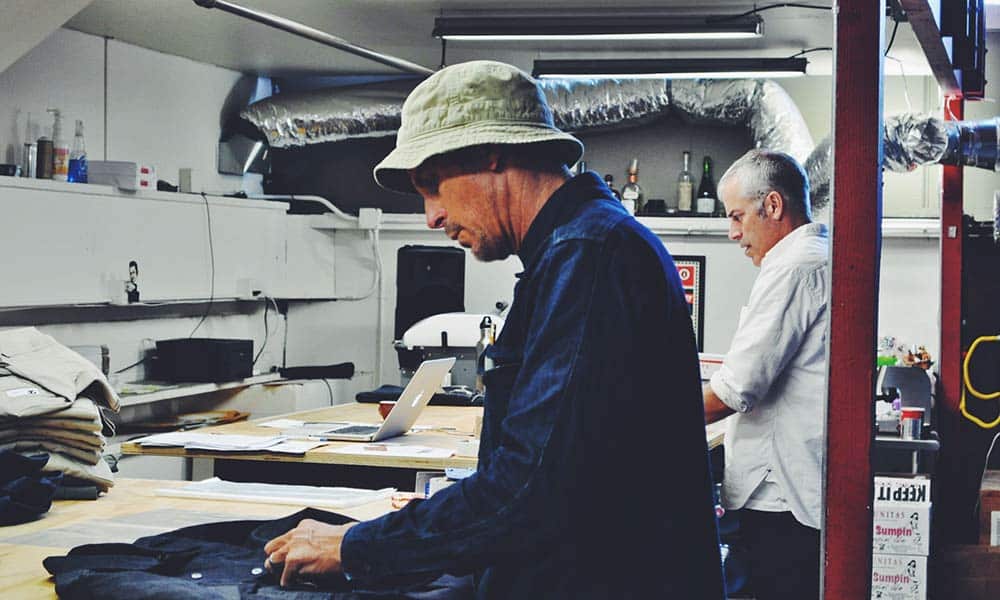 Your MacGyver Kit/Essentials:
| | |
| --- | --- |
| Technology: | Keepgo wifi for traveling abroad. |
| Shoes: | Redwing boots. I have one pair and it is on sole #6. |
| Watch: | Panerai |
| Travel Bag: | Croots for Tellason duffel bag. |
| Jacket: | Tellason wool lined denim jacket. |
| Socks: | Socco socks. Old school crew socks made in N. Carolina. |
| Dress: | My "CUTTERS" tee by P1. |
| Stationary: | Field Notes. |
| Book: | Just Kids by Patti Smith |
The usual suspect:
Why denim?
It is the only fabric worth attaching yourself to.  It has to be good.  Buy shitty denim and there will be no attachment. It has always had to the do with the fabric and how it was used back in the day. Factory workers, farmers, rockers, punks, early counter culture women that were not supposed to dress themselves in denim but did, these are all part of the denim story that I love.
Tell us about Tellason.
Tony and I were simply done working for other people. Great experiences were had along the way but our business and product philosophy did not match what we were doing at the time. There was no reason in the world that we shouldn't and couldn't do it.  We had the experience and connections to make it happen. Lucky us, we did not make any enemies out there.  All of the raw material suppliers and the sewing factory helped us out when there was very little in it for them.  Things have changed and we have grown only with their help. It was an easy decision to start our own brand. Business sucked back in 2008-9 so shops were tired of clothing that sat there following looks and whose price may not have matched the quality.  We stepped in and sold them a good pair of jeans that fit well. Our first two years was spent selling this one style only. The John Graham Mellor, slim straight fit. Still a top seller for us.
Business plan?
Buy plane tickets and hunt down our market. In our case, this meant spending time in Japan and all over Europe.
Product development?
We have created certain templates that are pretty understandable and timeless. Now, it is our job to find compelling fabrics (for tops only since our jeans are the same, year after year.  If we find a heavy flannel or a beautiful stripe fabric, we simply plug the fabric into a shape that we already have. In the end, it is a new shirt but in a shape that the customers already know.
Tellason is made to last?
Yes, but to be clear, we make clothes made of cotton, not Kevlar. Wear the Hell out of it and we hope the customer comes back to buy another.
Pictures by Leonardo Nave
www.casabottega.eu
Want to know another brand story? Find all about knive maker Passion France.