The Product. Since each HUTSCHN is made of a different piece of wood, you will always swing on a unique piece. Branches, adhesions and wormholes are natural features of the product and provide a distinctive feel and look.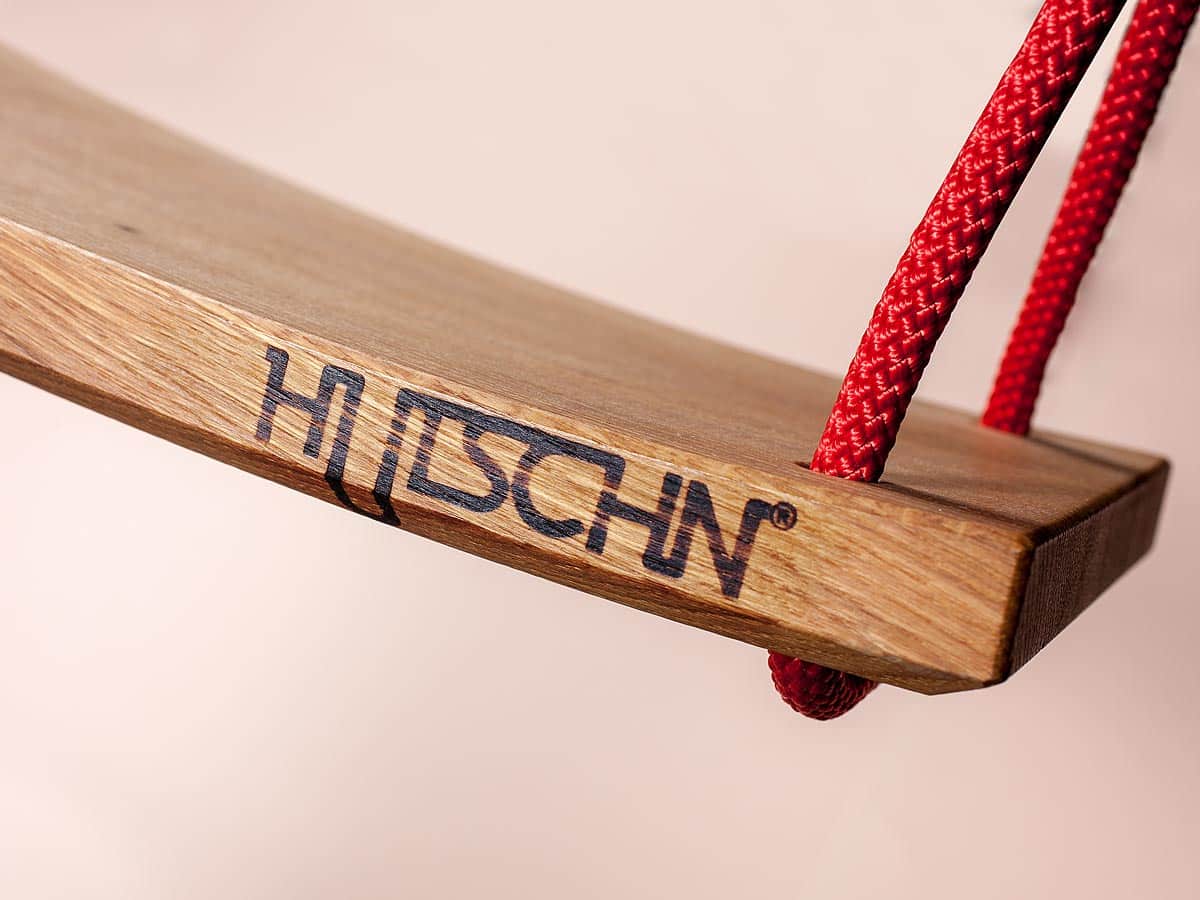 The rocking board is worked out in 15 steps from at least 10 years in the fresh air slowly and gently dried oak wood. Consciously, artificial drying, gluing, or bending of the wood under steam is avoided in order to achieve the bending of the swinging board. The manual work also continues in the production of the ropes for hanging the HUTSCHN. The ropes are spliced. The rope is carefully disassembled into its individual components, to then lead back together as a loop, so the rope is permanently connected to the wooden board. Again, a step that requires precise manual work and cannot be done by a machine. The rope is thus extremely stable and loadable. The finished rocking boards are treated with cold-pressed, ecological linseed oil. The oil protects the wood while hanging in the garden, or another favorite spot.

Another method of protecting the wood has its origins in Japan and can be found in a soon to be released special edition of the HUTSCHN. The technique is based on a centuries-old Japanese tradition called "Shou Sugi Ban". The wooden outer layer of the swinging board is charred with a lot of flair; hence the wood is conserved and receives a natural protection against fungi and vermin. The surface looks more archaic than the original.
In addition to this there is the Della Hutschn. Store it in your backpack and hang it up at an awesome spot, swing and let your legs dangle. Swing fascinated!
The Brand. Andreas Baumann, Matthias and Andreas Bunsen have rediscovered something: to swing. At the beginning of 2017, they began to produce an extraordinarily high quality and durable swing in pure handcraft. In their master workshop in Bischhofswiesen, at the foot of the famous Watzmann in the Berchtesgadener Land, the HUTSCHN® – derived from the Bavarian word for swinging – has since been created.