The kitchen is a location for tragedy and for comedy. A place for resonance. We spoke to Marc O. Eckert owner of bulthaup about kitchens, design and social resonance.
bulthaup has created kitchens in lower Bavaria since 1949, each one born in their workplace in Aich, near Bodenkirchen. There we met a dedicated team of passionate Makers who seem to have kitchens on their minds for far longer than regular working hours.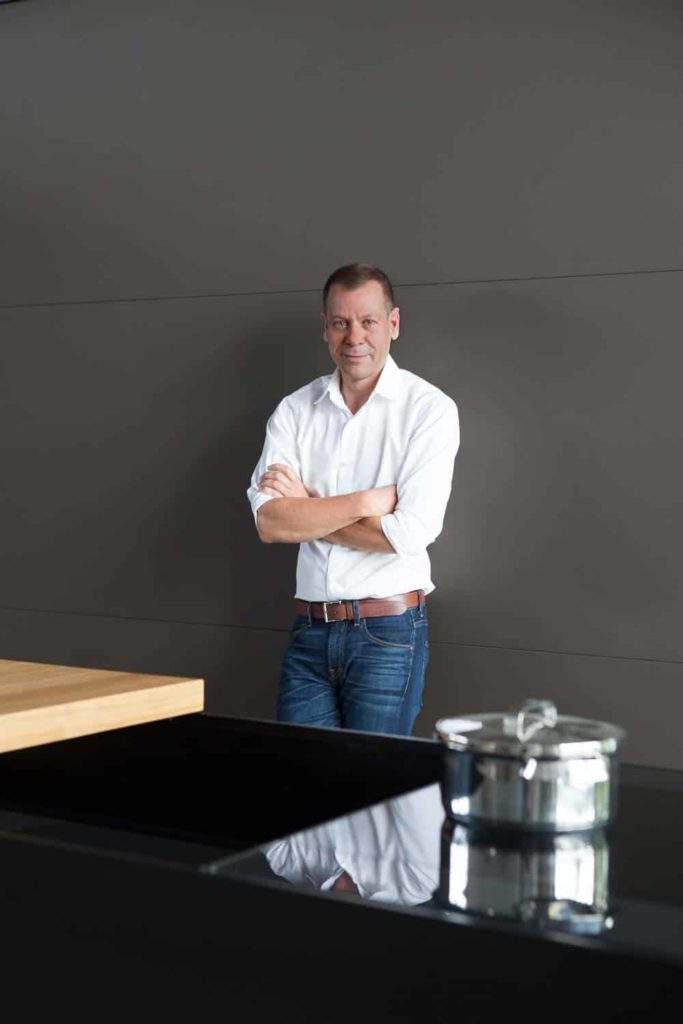 With its first furniture, back in 1951 bulthaup re-invented the idea of where we prepare and eat food, thinking very differently than most other household supply companies, food producers and furniture carpenters. One may recall those nostalgic food commercials from the 1950's and 60's that portrayed a lonely serving woman in a separate room of a newly built house or flat. Today we look at those messages, as an amusing reminiscence of times when roles for people, and the rooms they dwelt in, were clear – but limited.
Kitchens are not solely for cooking – but for company
In the 1980's bulthaup started to work with German designer Otl Aicher who defined the kitchen as a place "inviting enough to create food together, that should hold kitchen utensils in reach and sight". Not really a new idea, when one thinks of farmhouses where the kitchen always was the place to create food and consume it, but in the 1970's and 80's this had fallen out of fashion in the west.
As the leading kitchen manufacturer in Germany, we found that Mr. Eckert, the third generation of his family to take the helm of bulthaup, had surprising views on what's important in a kitchen. Speaking little about the merits of the kitchen as a whole, he focused mostly on the secondary items found in it.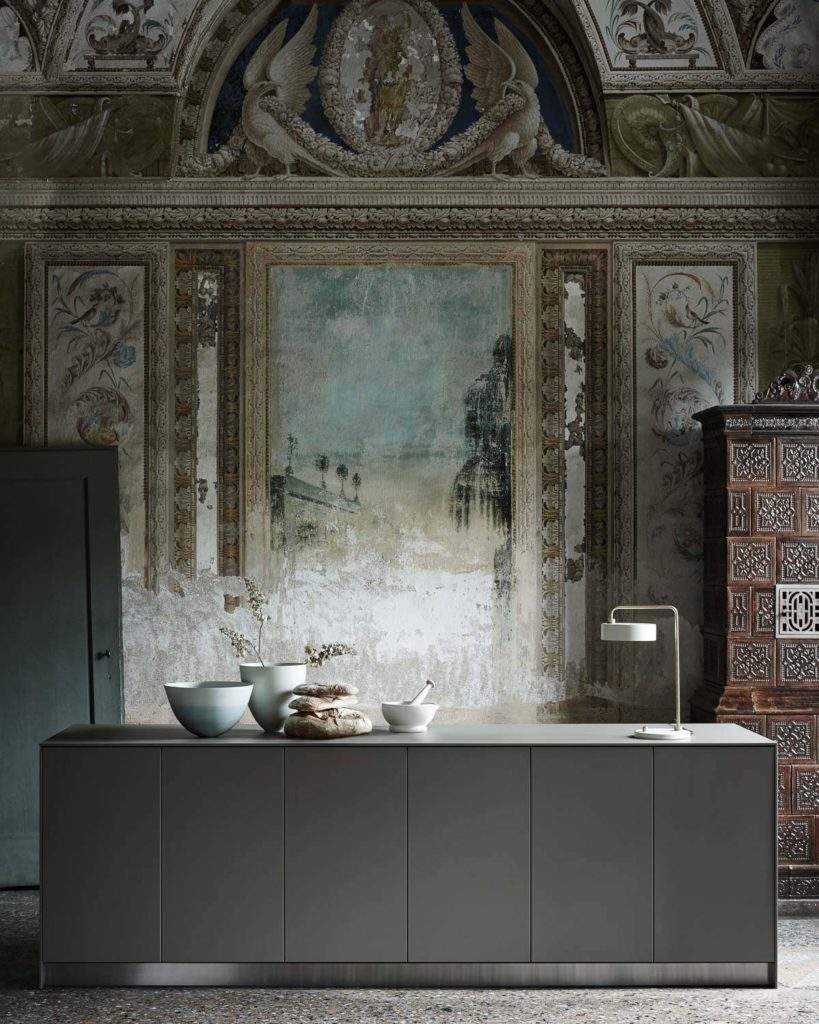 A kitchen must provide room for a table. A place to gather all members of the tribe. May it be a family of blood or choice, and the friends. No family member should be obliged to run in and out from another room and hence miss the conversation. The good and modern kitchen keeps the narrative active by not distracting too much, enabling one to find needed items in an instant and leaving enough time for the most important social attributes of intimacy and reflection.
A bulthaup kitchen is not only a practical workstation for professional chefs. It is a crafted assortment of pieces that, in combination, fulfill a transcultural need: The need to gather and make this gathering a potent experience. From a quiet one-on-one, to a tragedy or comedy, savoring good flavors and stimulating connections over a shared pleasure to eat and drink well, fulfills the power-of-place.
Fire, Water, Food & Community
At the core of bulthaup's set of values are four essential needs. The first one is fire, representing not only the cooking of food but also warmth and belonging. Where there is fire, there is a place to appreciate nearness. Second comes water. A most important, life-sustaining element. When one is hydrated one feels well. Having water is a luxury and a means of survival. Third there is food, but surprisingly not the edible kind. In the context of bulthaup it is the soul-food, of resonance and feedback, the food for one's thoughts. The fourth essential is community, a consistent transcultural need, the essence of which, can be found in all bulthaup made kitchens.
Manufacture and craftsmanship
On our visit, we found one work station empty. The man's task working there was to check the flawlessness of laminate. He does it with his eyes detecting even the smallest imperfections, should they occur, and with both hands. One hand using the naked fingers and one using a glasèe glove. The station was empty since he needs to take regular breaks in order to reliably execute his job to perfection for four hours at a time. The fingers and eyes need a break. That is why at bulthaup many tasks are rotated between the multi-skilled workers.
bulthaup uses the term "truth of material" (Materialehrlichkeit) a lot. Even if a surface is refined to perfection, one should still be able to experience the material viscerally, by smell, sound and touch. It is that moment when the tactile senses tell us that a thing is authentic or fake, treated well or bad. And this is the same story for many products in this book and our previous book – a truth that separates real craftsmanship from simply building something.
Of course, bulthaup's workshop is not a carpenter workshop with lots of chipped wood and dust floating in the air. It looks rather high-tech, machines doing the rough part. But at bulthaup's core are skilled hands and brains bent toward a single cause, building kitchens that last, by stability and design.
This text is published in the Makers Bible "Beetroot & Steel". Download the complete book here.