We set out with our latest guide in hand to visit makers and crafters from the foothills of the Alps. More precisely, to craftsmen between Allgäu and Lake Constance.
Our journey to brilliantly creative makers and crafters from the second chapter of our guide, united by their mastery of craftsmanship and innovation, begins with Benjamin Dietermann of Konvoi Snowboards and leads us to the end for tasty bites and delicious sips at a wonderful Rädlewirtschaft in Lindau on Lake Constance.
Ben Dietermann is a trained carpenter, studied wood construction engineer, snowboard designer and passionate snowboarder. He has been snowboarding since 1992, building snowboards professionally since 2011 and running his own brand and manufacture Konvoi Snowboards near Kempten in the Allgäu region since 2017.
In his workshop he develops, tinkers and builds highly functional snowboards, splitboards and powdersurfers. Ben uses mainly local woods, which he combines with selected high-tech materials. Always with the goal in mind to produce high quality performance boards that last a long time and provide the rider with the greatest possible gliding pleasure.
Somewhat hidden in the back of the Gunzesried valley, in the middle of the Nagelfluhkette Nature Park, is the Gunzesried mountain fish farm. There, Alsace Saibling grow in fresh, ice-cold mountain spring water, which after about three years find their way into the farm's own store, which is housed in a rustic log cabin complete with a tavern and sun terrace. The Saibling offered is a true high pleasure all the same whether freshly to the roast or grill, smoked, pickled, sourly marinated or as fish salad, -pflanzerl or -soup. A visit can also be combined with a hike or bike ride in the idyllic high valley.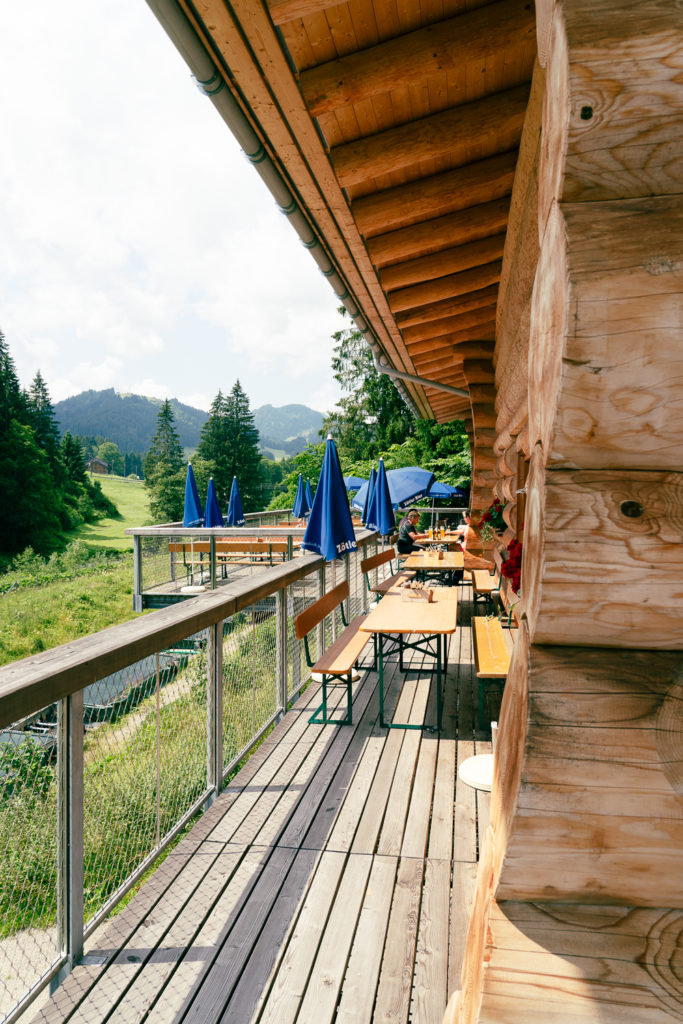 Christoph Finkel from Bad Hindelang, who grew up in his father's sled-making workshop, is now permanently represented as an artist and sculptor in galleries in South Korea, the USA, Scandinavia, Switzerland and Munich.
What distinguishes him from a mere craftsman is the commission. He does not have one at first. Search and selection of the trunk in nature, the adventurous transport, the question of storage time, the turning of the trunk, the imagination of what exactly is to become of this never perfect, partly weathered and full of surprises piece of trunk – all this can be in a fraction of a second, with a wrong movement or a misjudgement about how the wood will behave, abruptly for nothing. What proud craftsman would take that risk?
His sculptural vessels and bowls are of timeless, cosmic elegance and virtually beg to be bathed in changing light. You can see and touch his exhibits in Bad Hindelang, where the world traveler has his roots and home.
In Kißlegg, Julian Reuter from Out for Space welcomes us. The story of out for space, founded in 2015 in Kißlegg, goes like this: There's rattan, a fast-growing raw material. Nature is precious and hides the greatest treasures so well that it sometimes takes innovative ideas to make them not only visible but also usable. With its energy-efficient technology, the company transforms its natural structure and out comes the wonderful plastic alternative: karuun.
In fact, the modified rattan fabric is an alternative to plastic and wood. Comfortable, quiet – and extremely flexible to use. In Kißlegg, for example, it can be admired on walls and as furniture in the Heimat Spa. But it is also used in the concept cars of Mercedes or in the production model ET7 of the Chinese manufacturer NIO – or in the kitchen planning of the Frick company. We are certain that this almost forgotten natural product is enjoying a renaissance.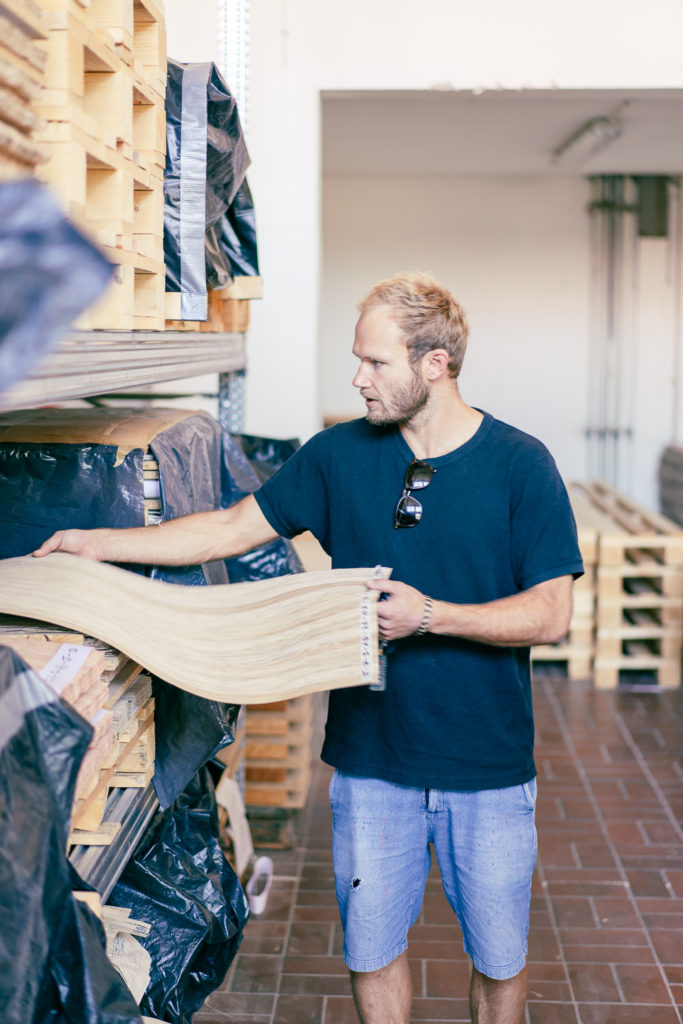 There is no sewing machine in Alexander von Bronewski's leather manufactory in Lindau at the beautiful Bodensee. The seams of his products, almost exclusively made of cognac-colored, vegetable-tanned cowhide, are sewn by hand with French waxed thread, which also means that all the seam holes are first marked with a tool and then pierced with an awl before the two needles find their way. Thus, all the steps performed by hand add up to more than 500, depending on the model. Whoever gets to know Alexander understands that he is the essence of his experience and his homeland. From the lake, the forest and the cultural landscape of eastern Lake Constance he draws the strength that is reflected in his products: Raw material selection, design and self-taught craft, matured to perfection.
We visit Teresa Deufel at her organic winery during the Rädle (Heuriger) to open only for a limited period, the farm festival with friendly local winemakers, and one of the many cultural and culinary events that take place in the area during this time. A good 200 years ago, wine was grown here in the Bavarian Lake Constance region around Lindau. However, in the course of time, fruit cultivation replaced vine cultivation and the viticulture fell into oblivion. In 1975, the fruit growers and wine lovers Hannes Deufel and Ludwig Haug began to revive the winegrowing tradition on the slopes above Lindau. With Teresa Deufel, the second generation took over responsibility E for the winery in one of the highest growing regions in Germany in 2009. The young, talented winemaker has completed an apprenticeship as a winemaker, is studying viticultural technology in Veitshöchheim and is completing various internships with renowned winemakers and the German Wine Institute in London. Influenced by her apprenticeship, she is fully committed to organic quality and an ecological approach to the land she is allowed to cultivate and in which she herself is deeply rooted.