Alain Ducasse, René Redzepi, Virgilio Martínez Véliz and Fulvio Pierangelini have a few things in common. They are superstars of the culinary world. Needless to explain that these personalities host restaurants non any worse than rank 14th in the World, their exact placing varying slightly from year to year, anyway: How do they cut their meat and vegetables?
Michele Massaro is a professional blades' smith only for six years. Still the most prestigious chefs in Europe seek after his knives. His one-steel kitchen knives are tools to honor the tradition of Maniago, Italy's cluster for knife and cutlery making forges. His blades are one-layer carbon steel affairs. Not folded over and over again and not treated with acid. Their design is related to Japanese knives such as the Gyuto, the meat knife. But then, Michele keeps his designs very simple. His trademark: the vertical broken black marks from the forge's hammer. The handles are usually local willow tree wood, which grows literally behind the forge and is Michele's favorite. He is a passionate angler and mountaineer, so more exclusive woods are available –he simple picks them on his outings.
Maniago. One day in September. It was around 1 pm one bright sunny day that I parked my car in front of the Antica Forgia, which I found empty. I phone Michele "Ah! You are the guy with the bible. I am at lunch. Andiamo, I will be with you shortly". I meet the maestro soon after this. His forge is 5 min outside Maniago's town center. He is skinny, wears spectacle-like glasses and has groomed his beard D'Artagnan-style. He welcomes me to the forge, which in the beginning is nothing but a dark dungeon until my eyes adjust. Sure, there is no electric light inside – electricity is only available when the water wheel is connected to the stream of water that runs clearly noticeable just behind the building. But first, coffee.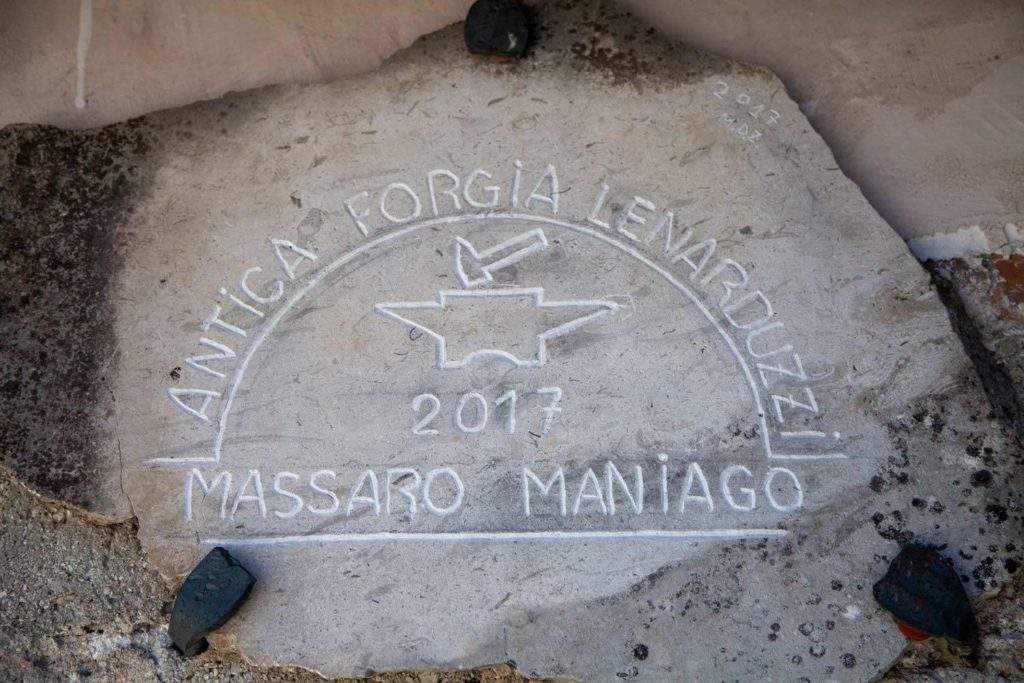 To him his knives are nothing but rational, clean, simple …. and sharp. A true craftsman and maker.
The Bialetti moka soon creates the bubbling sound while I stumble over a mess of wood, metal and whatnot literally getting lost in the 80 square meters that represent the Antica Forgia. Clearly I recognize a lot of celebrity chefs on photos on the forge's walls, like Yoji Tokuyoshi or Vittorio Capovilla, creator of exceptional spirits near Bassano del Grappa. Antonia Klugmann from Trieste, owner of L'Argine a Vencò in Goriza who became a dear personal friend of Michele also uses his knives.
I will never forget the tranquil sensation when standing in the centuries-old Antica Forgia which was originally a horseshoe forge, when all you could hear was the running water behind the stone walls and the repetitive monotonous clacking of the leather belts that transmit the water's force onto the anvil.
Now, 15 months later the knife has arrived, it is now my knife and as I cut with it, being the extension of my arm, through vegetables or pair a chicken with it, I recall the moment of seeing this man in his forge who is driven by passion and elevated by the recognition he gets from all the professional chefs. To him his knives are nothing but rational, clean, simple …. and sharp. A true craftsman and maker.
Michael Schmidt