South Tyrol is the northernmost province of Italy, half a million inhabitants, three languages (German, Italian and Ladin), fertile valleys nestled between high mountains.
In the book MAKERS BIBLE South Tyrol "Handmade Quality" we jump over the Alps and, as in our book "The Alps", we don't want to show picturesque stereotypes of idyllic landscapes dotted with cows, people in alpine costumes and glittering mountain lakes, but rather point out the people who have adapted to their environment over centuries and have turned what was necessary in the beginning into what is special today.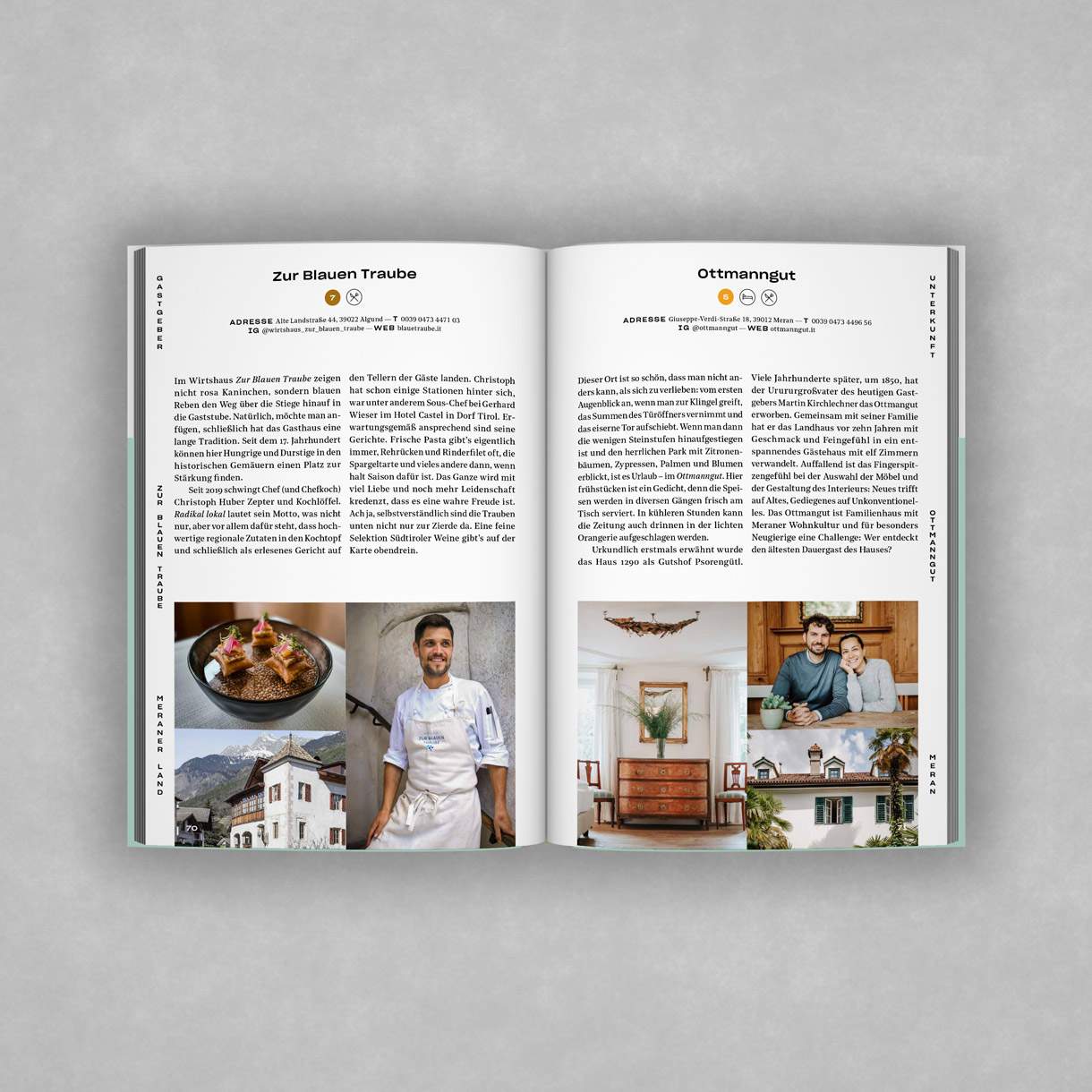 As always in our books, we want to make you want to get to know traditional and innovative Maker & Crafters in South Tyrol. In this guide, too, we focus on the people and their products.
In this book of the Makers Bible series we want to appreciate handmade products and their makers. We focus on agricultural products or shops whose assortments can only be found there. This book recommends accommodations whose hosts radiate the typical Alpine cordiality, where you can feel at home for a while and who are proud of their regional products.
The advantages of South Tyrol are obvious: the climate is almost like ours on the northern edge of the Alps, but the weather is usually better, as you would expect from Italy; the language is for German speakers understandable and the mentality similar. Somehow Dolce Vita and yet still an agricultural as well as industrial – and that is what our books are mainly about – artisanal location.
The autonomous province of Bolzano (BZ), as South Tyrol is called in Italy, should not be viewed uncritically: Even though many people think of South Tyrol as the land of bacon, wine and apples, the areas around Bolzano, Merano and the Vinschgau Valley in particular are characterised by agricultural monocultures that suffer from land sealing, water shortages, bee mortality and traffic jams. The Vinschgau Valley, for example, has a particularly low-precipitation climate due to its special geographical position; as much or as little rain falls here as in Sicily.
With our subjective selection, we present South Tyroleans who produce their food and products again or "from now on" in harmony with the environment and holistically according to common sense, for whom "organic" is not a trend but a promise to the next generation.
We introduce people who do not overvalue having and put being in the foreground; producers who have left conventional fruit farming behind, like the Luggin family in Laas, who have switched to 'organic'. They no longer wanted to treat the apples on their land for maximum yield and then deliver them to the cooperative. Instead, with creativity and perseverance, they have learned to comprehensively value what they have grown themselves.
We talked to Karl Perfler, whom they call the Alpine philosopher, who made his people aware that their own bread, the most important food, was hardly ever baked with local grain and who founded an initiative to grow the grain from which it is made back home. The first successes are now evident and nine varieties are (re)cultivated today.
The wines of Alois Lageder in Margreid are world-famous. The Lageder Restaurant Paradeis is much talked about and praised. At the same time, Alois Lageder's path from conventional winegrowing to biodynamic cultivation was initially ridiculed – and today often copied – so that it is almost logical that his children are now (re)taking the path to full-scale farming. "No future without origins" is truer in traditional South Tyrol than anywhere else. What does that mean? Instead of spending the winter in energy-consuming stables, oxen and sheep graze among the vines of the Lageders, where it is warm enough for them, they are in the fresh air and mow and fertilise at the same time. The result: pests become fewer, beneficial insects multiply.
Last but not least, it is important that traveling, consuming and meeting people is fun! Today, the quality of consumption is not "more", "sweeter" or "more expensive", but rather "less, but better" – transparency convinces the consciousness and creates a good conscience. The key to transparency is to build up a relationship with people, even if only for a short time. Isn't that what distinguishes travel from holidays?
We hope that the Makers Bible South Tyrol will provide many incentives to get to know South Tyrol and, above all, the South Tyroleans from a new perspective, especially since, in addition to the classics in our book, many destinations are off the beaten track.